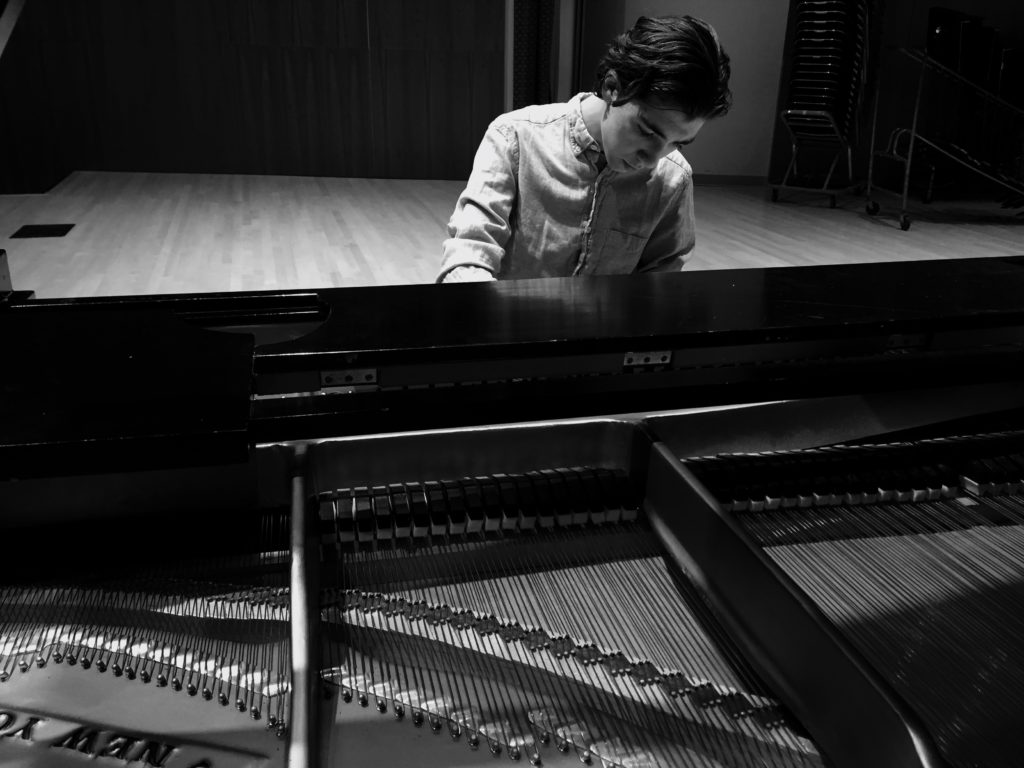 Alexei Aceto is an aspiring young pianist in possession of a musical understanding well beyond his years. He held his first full length solo recital at age twelve, performing works by Bartók, Beethoven, Chopin, and Satie. Accepted in 2014 into the piano performance studio of Dr. Charis Dimaras at Whalen School of Music at Ithaca College, Alexei has performed alongside graduate and undergraduate students in recital cycles celebrating the works of Rachmaninoff, Scriabin, and Busoni. He is recipient of honors in multiple competitions, including First Prize in the 2014 Nazareth College Piano Solo Competition, and First Prize in the 36th Annual Ithaca College Concerto Competition in 2015. Alexei was selected by Classical Pianists of the Future as featured soloist for their 10th anniversary recital series in Spring of 2017. Alexei lives in Ithaca, New York with his family and Irish wolfhound.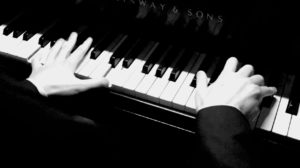 "… Alexei is just too nuanced for words … seeing him perform is like watching the inside of a delicate submarine life form: there is a preternatual grace, respect and unconditional love that actually pains me to see … it's humbling and yes, as you know, sacred…" –Franklin Crawford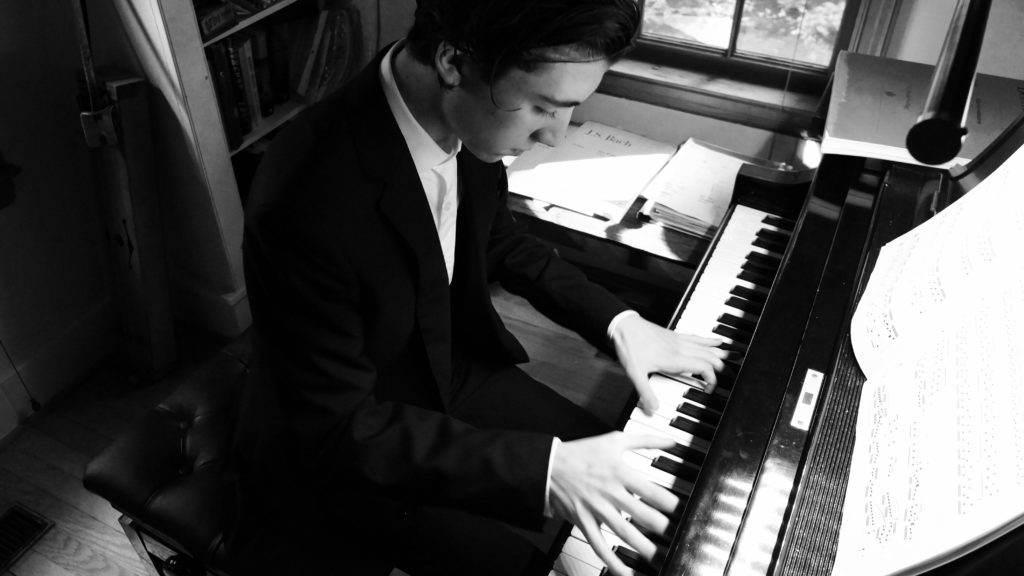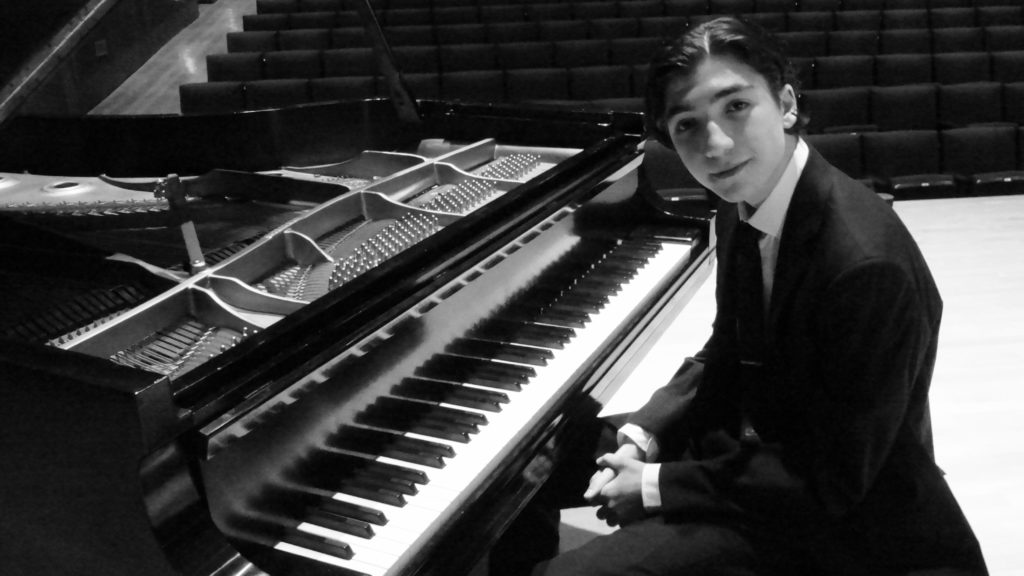 The youngest in a multi-generational musical family, Alexei began learning his chosen instrument at age four. He studied for eleven years in the studio of teacher Trudy Borden (Eastman School, New England Conservatory) holding his first full length solo recital at age twelve. While still in middle-school, he performed alongside his classmate, young actress Erin Hilgartner in an original multi-media production, Reading Satie; Les Sports et divertissements. Featuring the piano music and dadaist poetry of modernist composer Erik Satie, their performance combined the 21 piano miniatures with spoken-word and original film montage digital projections created for each miniature. The event was filmed before a live audience and became the subject of the performance film, Reading Satie.
In September 2014, Alexei was invited to participate alongside graduate and undergraduate students of Dr. Charis Dimaras (Professor Piano Performance Studies, Whalen School of Music, Ithaca College) in a recital cycle commemorating the centennial of Russian composer Sergei Rachmaninoff. The following year Alexei was again invited by Dr. Dimaras to perform in his studio's exploration of the piano music of Alexandre Scriabin. Alexei was formally accepted by Dr. Dimaras into his studio in September 2015, where he now studies full time. In September 2016, he participated as a performer in the music festival Ferruccio Busoni and the New Aesthetic, held at the Whalen School. Celebrating the 150th anniversary of the birth of the Italian piano virtuoso and modernist composer Ferruccio Busoni, the festival was curated by celebrated pianist and Busoni scholar Karl Lutchmayer.
Alexei has performed in master classes given by Dr. Dmitri Novgorodsky (Professor Piano Performance Studies, Whalen School of Music), by Dr. Jennifer Hayghe (Professor Piano Performance Studies, University of Colorado, Boulder), and by Professor Phiroze Mehta (Professor Piano Performance Studies, Whalen School of Music). He has also enjoyed private instruction with such committed performer/teachers as concert pianist Eric Himy,  Dr. Fred Karpoff (Professor Piano Studies, Syracuse University), and with David Arnay (Professor of Piano Studies, Thornton School of Music, USC). He also benefits from a productive ongoing experiential exploration of the baroque organ with Dr. Annette Richards (Professor Of Early Music and Keyboard Studies, Cornell University)
February 28, 2017  Alexei completed his undergraduate auditions for Piano Performance at music conservatories in the US and Canada.
In March of 2017, he was featured soloist for the Spring performance season of Classical Pianists of the Future, in celebration of the CPOTF 10th Anniversary.
Embedded within his ambitions as a pianist is the fervent desire to raise appreciation among youth of his generation for the qualities, depth, and emotional resonance of music from all eras in the classical tradition.
..
..
[  Repertoire  ]
J.S. Bach
French Suite No.5
Italian Concerto
Preludes & Fugues, WTC Book I & II (selections)
Largo from Organ Concerto No. 5, BWV596 (transcribed for piano by A. Stradal)
W.A.Mozart
Piano Concerto No 17, K 453
Piano Concerto No.22 in E Flat Major, K482
Fantasia in C Minor, K475
Sonata No.14 in C Minor, K457
Sergei Rachmaninov
Prelude, Op 23 No 10
Alexandre Scriabin
4 Morceaux, Op 51
Trois Morceaux, Op 2
Preludes, Op 11 (selections)
Felix Mendelssohn
17 Variations Sérieuses, Op 54
Piano Trio No.1 in D Minor, Op 49 (select movements)
Franz Schubert
Impromptu, Op 142 No 3
Johannes Brahms
Intermezzo in A Minor, Op 118 No 1
Intermezzo in A Major, Op 118 No 2
Francis Poulenc
Suite Pour Piano
Improvisation No 12 à Schubert
P.I.Tchaikovsky
The Seasons, Op. 37b
Beethoven
Sonata quasi una Fantasia Op 27, No 1
Sonata Op 14, No 1
Sonata Op 28, "Pastorale"
Rondo in C Major Op 51 No 1
Rondo in G Major Op 51 No 2
Franz Liszt
Waldesrauchen S. 145
Nuages Gris
Frederic Chopin
Andante spianato et Grande Polonaise Brillante Op 22
Preludes, Op 28 (selections)
Etude in A Minor Op 25 No 11 "Winter Wind"
Etude in A-Flat Major Op 25 No 1 "Aolian Harp"
Mazurkas, Op 7 & 68 (selections)
Jánaček
Sonata 1.X.1905
George Gershwin
3 Preludes
Maurice Ravel
Menuet sur le nom d'Haydn
Béla Bartók
Six Romanian Folk Dances Sz. 56
Erik Satie
Avant-dernières Pensées
Sports et Divertissments
David Borden
Dialogue One (from 15 Dialogues)
Prelude & Fugue in B Dorian (from 12 Preludes)
..